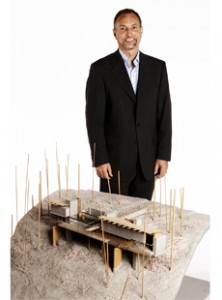 Alan Boniface,  B.A., B.Arch., MAIBC, MRAIC, AIA – Principal – Dialog Architects  ABoniface@designdialog.ca
Alan is the current managing partner of the Vancouver studio of Dialog and has contributed to projects in many jurisdictions, including Vancouver, Los Angeles, Beijing, Edmonton, San Francisco, Portland and New York. Alan is recognized as a leading thinker on urban issues. His experience with large mixed-use projects, unique architecture and public space design, all contribute to Alan's unique abilities in creating vibrant, people-oriented communities. In particular, Alan's work focuses on designing sustainable communities that can adapt and prosper through time.
Bruce Haden  MAIBC, MRAIC, LEED® AP – Principal – Dialog Architects  BHaden@designdialog.ca
Bruce's architectural and urban design work has been recognized globally, particularly for the Governor General's and World Architecture Festival winning design of the Nk'Mip Desert Cultural Centre in Osoyoos, BC. He has extensive experience in institutional, social services, residential, retail and First Nations projects with work ranging widely from wastewater treatment plants to cafes. Currently he is working on renovating a historic post office building in northern BC into a community arts centre, the competition-winning design of the Canadian Navy Monument in Ottawa and the new Student Union Building at the University of British Columbia.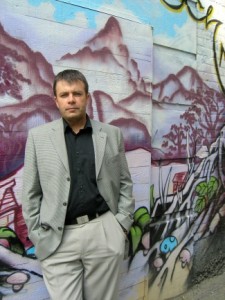 Mark Holland MCIP – New Monaco Development Corporation Mark.holland@newmonaco
Mark is Vice President of Development for the New Monaco Enterprise Corporation – a company developing a highly innovative master-planned community in the Okanagan.  He is a LEED™-accredited planner who holds professional degrees in both Landscape Architecture, and Planning.  Mark's past work has included serving as a city planner in Vancouver, founding and managing Vancouver's Sustainability Office, and cofounding two consulting companies – the Holland Barrs Planning Group and subsequently HB Lanarc Consultants – helping take them to national recognition for leadership in innovative planning, design and sustainability expertise. He is co-author of the book, Agricultural Urbanism, and was awarded "Planner of the Year", in 2010 by his peers in the Planning Institute of BC.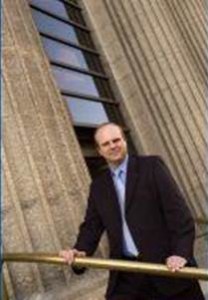 Bruce Irvine MCIP – Planning Consultant  Bruce.irvine@shaw.ca ; Urbanirvine@twitter.ca
Bruce Irvine, MCIP is well known as a diverse planner with a reputation for making policy ideas work "on the ground." Bruce's passion for cities – how they grow, interact with citizens and contribute socially, economically and environmentally – is woven into everything he does. Bruce's experience with land development, urban planning and city planning processes has been molded through influential positions such as Vice President with Calgary Economic Development and as Manager for the City of Calgary Development and Building Approvals Department, and as a private consultant for over thirty different municipalities and developers. Bruce has been field testing ways in which planners can create vibrant projects through pivotal roles on such projects as Canada Lands Currie Barracks initiative, Edmonton's Downtown Plan and "The Bridges", an award winning brownfield re-development in Calgary.  Bruce's work has been recognized by The Canadian Institute of Planners and the Canadian Association of Municipal Administrators, and the International Downtown Association for work related to innovation in planning.
The Idea Partner  – Norbert Jakubke – norbert@theideapartner.com
Other participants over the years
Michael Gordon, City of Vancouver Planning Department  – michael.gordon@vancouver.ca
Angus McAllister – McAllister Research –  angus@mcallister-research.com